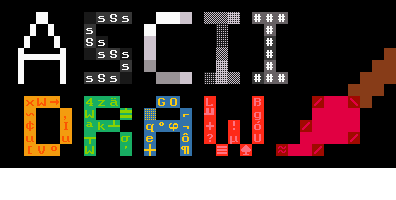 ASCII Draw
A downloadable tool for Windows
ASCII Draw is a drawing program where you paint using a limited set of character tiles.
Important:
! Text tool is not yet implemented despite it having a GUI button
Features:
Draw bitmap font characters freehand or with a number of shape tools
Right click for eyedropper functionality
Selection tool: cut, copy, paste, or move selection.
Recolouring brush, keep tiles but paint different foreground/background colours
Undo and Redo with large history ("infinite")
Save, Load as editable .AFF file or Export as .png
Resize, crop, clear, and flip canvas or selection
Shortcuts for all tools
Customizable settings including changing tile set and palette
And MORE!
A more complete feature overview including shortcut commands is included in a ReadMe file.
Future Development:

Further development is planned but the project has been on hold for a while. I have a lot of other projects but this may see some love again if there is an interest in further features:
Text Objects (write a string of text, keep as a "text object" separate from the canvas data so they are always editable), Grid Manager (toggle and customize a grid overlay), Palette and Tileset Manager (change them on the fly instead of in the settings), Layers, Animation
Install instructions
Simply unzip the file and run the executable to begin using the program. Give the "Readme.txt" file a read to learn the program shortcuts and file format.